Social Resiliency in Digital Games by Kevin Feenan
International Conference on Immersive Learning, Conference Paper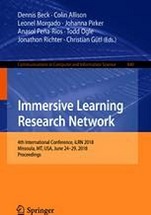 ABSTRACT: This paper offers an insight of social resiliency in digital games based on ten years of observations from conference presentations on various digital games and virtual reality simulations. The paper articulates the issue of disruptive innovation and its relationship to the driving need for future college and university graduates to be prepared to face challenges associated with complex problems. The paper outlines five key success factors associated with digital game-based learning and their relationship to social resilience. Finally, the paper concludes by discussing several key implications on how future game-based learning designers may be better able to tackle the problem of managing disruptive innovation. Researchers may draw upon this paper's observations to help frame ways in which future digital games may be better suited for instructional purposes when trying to address challenges of disruptive technology.