Cisco WebEx Meeting Center is an online meeting that allows you to virtually meet with other people, without leaving your home or office. Webex meetings require a computer with Internet access and an optional separate phone line.
By logging into the meeting via the Internet, you will be able to see the presenter's computer screen. You can call into a meeting using either your computer or by calling into a conference phone number.
Webex provides the ability to do video conferencing, screen sharing, remote technical support, and file sharing. Sessions can be recorded for later playback for webinars and training.  The system also uses state of the art distributed computing (cloud) technology so that conference attendees in Australia get a similar experience as those in Europe or North America. 
Rockcliffe's Service
Rockcliffe's webex subscription is available to Professional members to host meetings for classes or special events. The meeting space is sufficient for up to twenty-five (25) people and includes the following features:
Video conferencing (full-screen, up to 7 video feeds, or split-screen)
Share applications or your whole screen
VoIP or phone call-in
Markup tools and whiteboard
Record meetings (including video)
Free mobile apps
Share the presenter role
Remove control of someone's desktop
Password-protected meetings
In-meeting and cloud-space chat
Compatible with PC, MAC, and Linux
Cisco security and reliability
The service is available by booking in advance using our scheduling service in the My Rockcliffe Portal.  
Create Your Own Experience
Anyone can attend a WebEx conference. Cisco has now made this easier so that people only need a web browser in order to attend. For presenters, however, you require to have the WebEx plug in. Signing up for a free account is recommended.
WebEx
If you are accessing WebEx for the first time, you will be given the option to continue as a guest or to sign in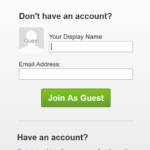 If you continue as a guest Webex has a browser based application that doesn't require any special configuration work on your end. However if you want to act as the presenter or require technical support help where the presenter may need to access your computer (with your permission) you will need to get a free WebEx Account.
Use the "Try for Free" link. Ignore the part about pricing plans. Cisco will give you 14 days of free premium service after which time your account will be downgraded to the regular WebEx Meetings Free plan. 
Professional Members can request booking a WebEx meeting through the myRockcliffe Membership Portal.