Rockcliffe University and our charming host Renne Emiko Brock (Zinnia Zauber) are pleased to have Brett Atwood (Brett Linden), Senior Marketing Manager at Linden Lab as our first guest of Season 4: Inside the Avatar Studio on June 13, 2018 at 3:00 PM SLT.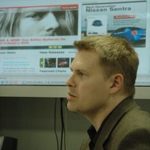 Brett is also an Associate Professor at Washington State University. He will be bringing to the discussion over a decade of senior management experience as a website editorial lead and content development strategist for companies including Amazon.com, Linden Lab, RealNetworks, and Billboard magazine.
Brett's background also includes demonstrated experience in interactive storytelling, social media persuasion and evaluation tools using multimedia and virtual reality content across multiple platforms. 
Join us at the RUC Rotunda, Rockcliffe Library https://maps.secondlife.com/secondlife/Rockcliffe%20Library/243/12/29 or watch live on Rockcliffe's YouTube channel https://gaming.youtube.com/urockcliffe (with many archived videos to revisit!)
******************************
Our next show, July 11, joining us will be the team behind the incredible feature documentary "Our Digital Selves: My Avatar is me"  (embodiment and placemaking in virtual worlds) with Bernhard Drax, Tom Boellstorff & Donna Davis.  Full feature film: https://www.youtube.com/watch?v=GQw02-me0W4&feature=youtu.be 
*******************************
Producers: Bevan Whitfield (Elisa Butler), Kevin Feenan (Phelan Corrimal)