You have successfully created an account on Second Life.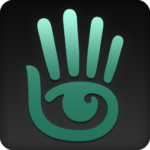 Next, you will want to download a Second Life Viewer. There are several to choose from; however, Rockcliffe recommends the Second Life Viewer to explore, communicate, and connect.
Download the viewer at this link: Second Life Viewer
Once you download and install the viewer you will be ready to log into Second Life.
What to Expect Next
Before logging into Second Life, we should review a few basics that will help you navigate once you arrive.
How to Move Your Avatar
The first thing you will need to know: how to move your avatar around. Your avatar can move using the arrow keys.
To Move Forward use the Up Arrow Key
To Move Backwards use the Down Arrow Key
To Turn Left use the Left Arrow Key
To Turn Right use the Right Arrow Key
How to Move Your Camera
Each Avatar has an invisible "camera" that frames what you are looking at in the virtual environment. You can move this camera around to look at the world around you without having to move your avatar. Your avatar can look in 3 dimensions using key combinations on your keyboard:
To look directly at an object, press and hold the ALT key and click once on the Left Mouse Button on the object.
To zoom in or out on an object, press and hold both the ALT key and the Left Mouse Button.
Move the mouse forward to zoom in; move the mouse backward to zoom out.
For MAC users, use the OPT key in place of the ALT key.
If you ever find that your camera is pointing somewhere you don't want it to, simply hit the ESC key once or twice, and it will reset your camera to the default position (slightly behind and over one shoulder of your avatar).
Now that you know how to move around and how to look around you are all set to go.
Receiving messages and notifications
When you interact with other avatars or with objects in the virtual environment, you will receive text chat messages and notifications that appear on your screen.  Know where to look to find them.
Notices about items you are given or interaction with things you click appear on the upper right-hand corner of the screen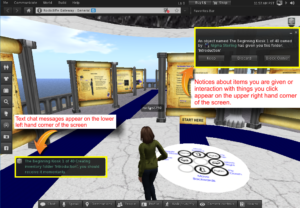 Time to Log into Second Life
It is now time to log into Second Life. Start the Second Life Viewer [green hand icon, likely on your desktop] and log into Second Life using the avatar name and password you created during the account registration process.
You will arrive at the Rockcliffe Gateway Tutorial area that will walk you though the rest of what the Viewer can do. The viewer can do many things such as talking with others in voice and text, finding your way to different destinations, and even building your own unique experience. The Gateway area will explain all these things to you once you arrive.
Your first task when you arrive will be to zoom in on the first tutorial board marked at the bottom with the words "Start Here".  Follow the blue pathway to learn as much or as little as you need to get you started.
If you need help, there will be staff available to assist with your questions. You can also email us through our contact page and select "Gateway Help" for the subject.
Special Events
If you have created an avatar to attend a special event or function (e.g. Virtual Worlds Best Practices in Education Conference), you will be able to find a gateway to it as you finish the tutorial (follow the path to the bottom of the mountain).  Several meet and greet areas are set up to provide additional information and help direct you to where you need to go.
Congratulations. Welcome to Second Life!