Old Sacramento, California
October 13-14, 2017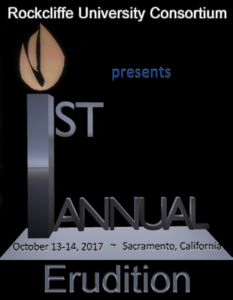 Erudition 2017 is Rockcliffe University Consortium's Annual Conference to be held each October.
The aim of Rockcliffe's first annual Erudition conference is to explore best practices in teaching and clinical practices: to create, evaluate, and apply immersive environments in the support of adult learner development.
Attendance in this conference would engage teachers in interdisciplinary opportunities to gain insights into pedagogical innovation, as well as networking with other educators working with augmented and virtual reality technologies.
Attendees of this 2-day conference should expect to come away with a better understanding of
How AR / VR impacts learning in the classroom,
What resources are available for AR / VR curriculum development,
When AR / VR is best used to support adult centered learning, and
Where the best opportunities are for innovation.
Registration and call for proposals will be opening soon.
Please help us with planning by completing the survey below.
By completing this survey, you will also be able to receive alerts when registration and call for proposals opens.
https://www.surveymonkey.com/r/RUC17AGM